Driveline
DAF developed three engines for the CF: the 6.7-litre PACCAR PX-7, the 10.8-litre PACCAR MX-11 and the 12.9-litre PACCAR MX-13. All available with a variety of power and torque ratings. The strict Euro 6 emission requirements are met thanks to ultramodern and thoroughly tested technologies including common rail fuel injection, a turbo with variable geometry, exhaust gas recirculation and ingenious exhaust gas after-treatment. Further refinements mean that they are now even more efficient. Good for the environment and for your returns.
MX-13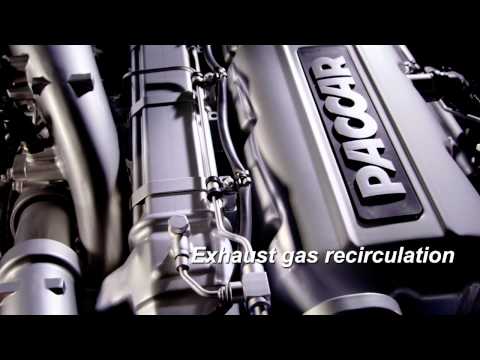 The common rail fuel injection system of the Euro 6 PACCAR MX-13 engine allows high injection pressures of up to 2,500 bar, and provides the opportunity to use pre- and post-injection, or a combination of both. This results in a finer atomisation and many more opportunities to optimise combustion to ensure the lowest possible emission and noise levels, and the best possible fuel efficiency. Like the unique two pressure pomps, also new and advanced engine software and new sensors and actuators are playing an important role in this regard. These systems now function even faster and more accurately to ensure that the optimum mixture of air, exhaust gases and fuel is injected at all times. This is also key to achieving maximum efficiency and low emissions.

Trucks need compressed air for braking. And compressing air takes fuel. That is why the smart PACCAR MX air compressor is installed. Smart software engages the compressor as much as possible only at those moments the truck is decelerating or braking anyway or going downhill. Thus converting the excessive energy into compressed air.

The PACCAR MX-13 engine has a synthetic moulded sump with a large content. Its shape reduces vibrations and as well as engine noise. The larger amount of oil allows service intervals of up to 150,000 kilometres.

The main advantage of using a variable geometry turbo charger with (VTG) is that the engine can utilise the best turbo settings at all times and across its entire speed range, allowing it to deliver maximum performance. The variable geometry turbo is also required to optimise the effectiveness of exhaust gas recirculation, especially at low speeds. This technology allows DAF to carefully set the proportion of exhaust gases diverted back into the engine, which again helps with fuel efficiency. The application of an advanced turbo also has a positive effect on the MX Engine Brake, which can release more than 75% of its 360 kW at low speeds (1,500 rpm), for maximum braking performance.

Unique in the industry is the fully encapsulated wiring on the engine block. This ensures a solid fitment of the wireloom and connectors to the engine block. Well protected wiring ensures highest reliability and durability.

The lub module smartly integrates the oil cooler, the oil filter and oil thermostat. The cooler is made of stainless steel for maximum robustness and the double thermostat allows the engine to reach the ideal operating temperature more quickly for highest efficiency. The lub module has the possibility to add a second filter for long service intervals of up to 150,000 kilometres.

The brake performance of the MX Engine Brake has been further improved. The new MX Engine Brake delivers 20% more power (for example, 360 kW at 2,000 rpm with the PACCAR MX-13 engine), making it an excellent alternative to a retarder for the majority of applications. The controls have been redesigned, allowing the driver to operate the system from the steering column allowing three levels of retardation. This means that braking power can be optimally adapted to the driving conditions. This results in a more comfortable drive whilst reducing brake wear and fuel consumption.
PACCAR MX-13 engine
For the most demanding applications, the CF can be equipped with the powerful 12.9 liter PACCAR MX-13 Euro 6 engine. Developed for a service life of no less than 1.6 million kilometres. With ratings of 303 kW/412 hp, 340 kW/462 hp and 375 kW/510 hp and impressive torque of 2,000, 2,300 and 2,500 Nm respectively. The maximum performance is available at low engine speed and across a broad speed range. That means less gear shifting and so pure driving comfort.
Engine type
Performance
Torque

MX-13 303

303 kW/412 hp
(1,425 – 1,750 rpm)

2,000 Nm
(1,000 – 1,425 rpm)

MX-13 340

340 kW/462 hp
(1,425 – 1,750 rpm)

2,300 Nm
(1,000 – 1,425 rpm)

MX-13 375

375 kW/510 hp
(1,425 – 1,750 rpm)

2,500 Nm
(1,000 – 1,425 rpm)
MX-11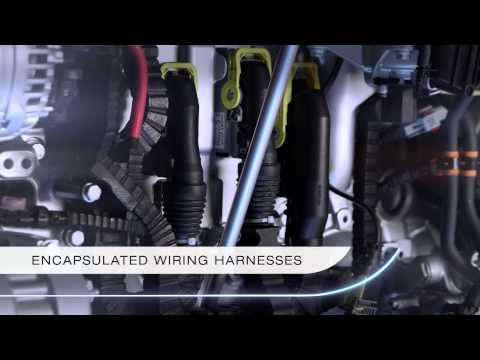 The six-cylinder PACCAR MX-11 engine with its double overhead camshafts is lightweight and compact. Thanks, among others, to a synthetic oil sump, a single multi-belt and a fan driven directly by the crankshaft.

The PACCAR MX-11 engine is 180 kg lighter than the MX-13. This means an even higher payload and thus an even better return. A big advantage within the distribution segment and also, for example, bulk or tanker haulage over long distances.

The PACCAR MX-11 engine is available in five versions. With power outputs of 210 kW/286 hp to 320 kW/435 hp. And high maximum torques of 1,200 - 2,100 Nm, available over a wide rev range.

Function integration has been optimized. Pipelines are cast in the cylinder block. The high pressure pump units for generating pressure in the common rail system are compactly integrated within the block. And there is a single module for oil filter, thermostat and cooler.

For maximum reliability, the cable harnesses are encapsulated with foam. Unique within the industry.
PACCAR MX-11 engine
Ideal for distribution transport, but also for more demanding applications where a low unladen weight and the lowest fuel consumption are of ultimate importance. The PACCAR 10.8-litre MX-11 is available in no fewer than 5 variants (210 kW/286 hp to 320 kW/435 hp with maximum torque of 1,200 to 2,100 Nm) and is up to 3% more economical than the already highly efficient MX-13. It is also 180 kilograms lighter. This means even more opportunities to further increase your return.
Engine type
Performance
Torque

MX-11 210

210 kW/286 hp
(1,700 rpm)

1,200 Nm
(1,000 – 1,700 rpm)

MX-11 240

240 kW/326 hp
(1,650 rpm)

1,400 Nm
(1,000 – 1,650 rpm)

MX-11 271

271 kW/369 hp
(1,650 rpm)

1,600 Nm
(1,000 – 1,650 rpm)

MX-11 291

291 kW/396 hp
(1,450 – 1,700 rpm)

1,900 Nm
(1,000 – 1,450 rpm)

MX-11 320

320 kW/435 hp
(1,450 – 1,700 rpm)

2,100 Nm
(1,000 – 1,450 rpm)
PX-7
The PACCAR PX-7 engine is available in the DAF CF with outputs of 172 kW/234 hp, 194 kW/264 hp, 217 kW/295 hp and 239 kW/325 hp. With torques of 900 to 1,200 Nm respectively. This ensures unprecedented driveability with favorable fuel consumption.

Maximum deployability is the basis of the reliable PX-7 design. Low maintenance contributes to your return. With service intervals up to 60,000 km and a particulate filter that only needs cleaning after 320,000 km.

The PX-7 is also equipped with a single multi-belt and various functions and components are clustered in a single module. For low maintenance costs.
PACCAR PX-7 engine
This powerful, quiet and economical 6.7-litre engine is highly suited for intensive distribution transport, with the lowest unladen weight for the highest possible payload. Available with ratings from 172 kW/234 hp to 239 kW/325 hp and corresponding torque output from 900 to 1,200 Nm. This provides excellent driving characteristics, with favourable fuel consumption and low emission values. The low noise level is nice for the driver and good for the environment.
Engine type
Performance
Torque

PX-7 172

172 kW/234 hp
(2,300 rpm)

900 Nm
(1,000 – 1,700 rpm)

PX-7 194

194 kW/264 hp
(2,300 rpm)

1.000 Nm
(1,000 – 1,700 rpm)

PX-7 217

217 kW/295 hp
(2,300 rpm)

1.100 Nm
(1,000 – 1,700 rpm)

PX-7 239

239 kW/325 hp
(2,300 rpm)

1.200 Nm
(1,100 – 1,700 rpm)
EAS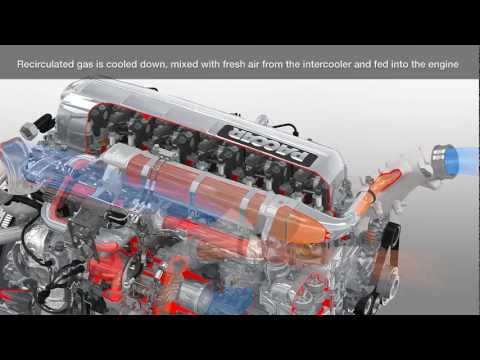 The ultra-modern common rail fuel injection system allows high pressures and enables the possibility for pre-and post-injection, or a combination of both to be applied. This produces a finer atomization of the fuel and many more possibilities to optimize combustion.

The SCR catalytic converter has also been designed to maintain optimum temperatures. Thanks to its smart coating, it is able to achieve maximum performance across a wider range of temperatures, which means that the engine can function optimally and in the most efficient way.

Unique in the industry is also the application of insulated exhaust manifolds and exhaust pipes. This guarantees optimal management of the heat towards the SCR catalyst and soot filter, to allow them to work in the most optimal way. The emissions after treatment system offers the highest efficiency when operating at high temperatures. Consequently, the engine can run in the most fuel efficient mode.
Exhaust gas After treatment System (EAS)
To meet the stringent Euro 6 emission requirements while ensuring the highest fuel efficiency, DAF has combined its advanced PACCAR Euro 6 engines with various exhaust gas after treatment technologies: an SCR catalytic converter and a diesel particulate filter.
Transmissions
Transmissions
The CF features new or further refined transmissions for a perfect match with the powerful PACCAR engines. Manual, automated or fully automatic, there is always a gearbox that is perfectly suited to your specific use.
The PACCAR PX-7 engines are linked as standard with a manual 6 or 9-speed gearbox. The PACCAR MX-11 engines up to 271 kW/369 hp are delivered with a manual 8 or 9-speed gearbox with overdrive. The two most powerful models, just like the PACCAR MX-13, have a manual 12 or 16-speed gearbox as standard with Servoshift for the greatest shifting comfort.
The PACCAR engines can also be combined with the automated AS Tronic gearbox. For PACCAR PX-7 engines with 6 or 12 gears and for MX-11 and MX-13 engines with 12 or 16 gears fine-tuned for heavy and on/off-road transport and the transport of liquids (MX-11 and MX-13). Thanks to EcoRoll the truck 'rolls' downwards in a controlled manner on gentle descents with the engine at idle. Fast Shift - with faster shifting between the higher gears - also contributes to favourable fuel consumption. New software and sensors ensure excellent behaviour when driving off and manoeuvring.
A fully automatic transmission is available for special applications — ideal for vehicles like fire engines and trucks for refuse collection.
Axles
Lighter rear axle
The CF drive line is efficiently completed by the SR1344 rear axle with a technical load capacity of 13 tonnes. It is even lighter while retaining robustness and reliability and is delivered as standard for combination weights of up to 44 tonnes and with engine torques up to 2,300 Nm. The SR1347 rear axle is supplied for heavier applications. Both of them can optionally be combined with the air sprung Stabilink axle suspension, which is lighter and boasts high stiffness for optimum driving characteristics. For off-road use DAF's renowned 8 rod tandem axle suspension is available. It provides 270 mm of articulation and unrivaled stability.
.