Leyland Trucks respects your privacy. We use cookies for a variety of purposes, such as website functionality, improving your experience of our website, building integration with social media and helping target marketing activities within and beyond our website. By continuing your visit on our website, you are consenting to our use of cookies. However, if you want to customize your cookie preferences, click on 'Change settings' below. You can withdraw your consent at any time. For more information, please visit our Cookie Notice.
Lancashire students encouraged to engineer career in automotive manufacturing
A career in engineering was top of the agenda for 23 female Lancashire students at a recent event held by advanced automotive manufacturer, Leyland Trucks.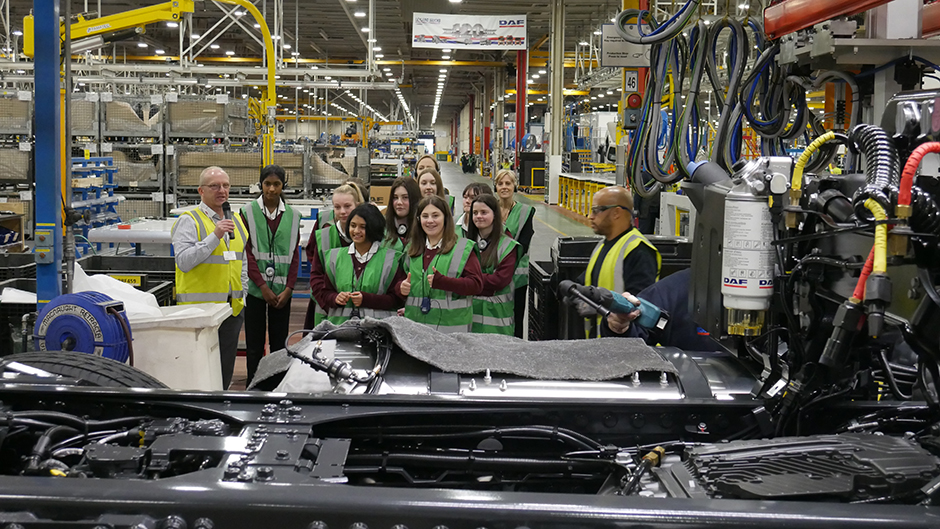 To coincide with International Women's Day (8th March), the students from Preston Muslim Girls' School and Our Lady's Catholic High School, were invited to spend the day at Leyland Trucks' production facility to discuss the steps that can be taken to break down stereotypes and encourage young females to pursue a career in engineering and manufacturing.
A panel of female employees at Leyland Trucks, including software engineers, mechanical engineers, apprentices and a commodity manager, welcomed the students to the company's headquarters, before opening the floor to questions about their experiences of the industry and of working with one of the North West's leading manufacturers.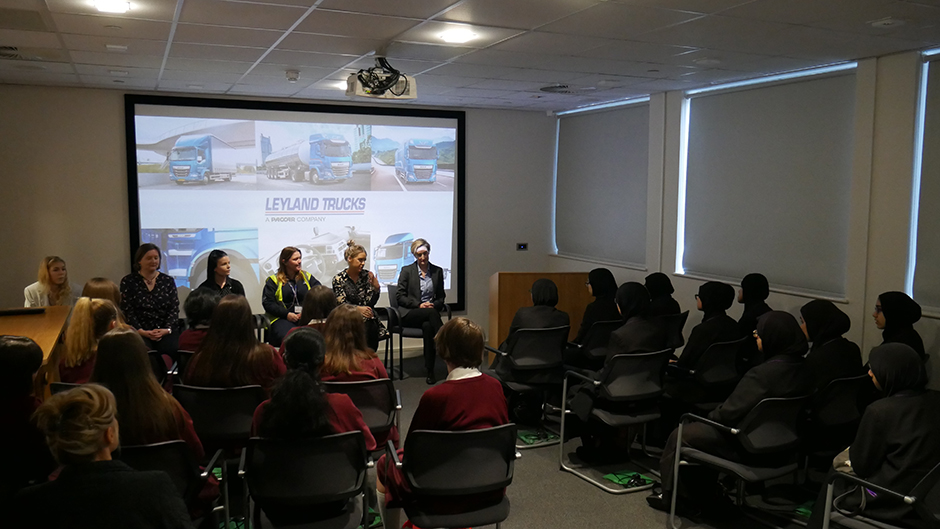 That was followed by a 3D demonstration of Computer Aided Design (CAD) technology, exploring its use in designing and building trucks, as well as a tour of the company's world-leading production line, where more than 66 DAF trucks are assembled each day by its 1,000+ workforce.
The event follows an initial visit from female students to Leyland Trucks last June for International Women in Engineering Day, when demand for the occasion outweighed capacity. The pupils were selected for this event having highlighted to teachers that they have a pre-existing interest in engineering.

Louisa Henshaw, a Year 10 student at Our Lady's Catholic High School, said: "It has been really exciting to see how the trucks are made and to learn more about the different roles within engineering.

"Looking around a plant like this, and seeing a factory in motion, was very interesting. You associate engineering as an industry with lots of competition between men and women, so to hear from a panel of females and see so many active in the factory helped me understand the vital part they play here.

"My long-term goal is to become either a clothes designer or to design rollercoasters. Hearing from female engineers has taught me that I can achieve these dreams, and I think the day has helped me understand how businesses are encouraging women to be involved in everything and show how powerful they can be."

Lead of community science at Preston Muslim Girls School, Yasira Rehmani, said: "We have been bringing students to Leyland Trucks for a number of years, because it helps the pupils translate the images they see in their textbooks to real life.

"It's hard to communicate how many roles are available to girls in STEM industries, so visits like this help the students realise their passions. They start to understand how other females got into their roles, and they see a broader picture of the whole engineering industry, which you can't ever get in a classroom."

Currently, the UK has the least number of female engineers in Europe and is facing increasing competition within this limited talent pool, as employers continue to seek highly skilled engineers to employ within roles and projects across a variety of sectors.

Leyland Trucks is one of several employers within Lancashire and the wider global manufacturing sector that is working to attract a more diverse talent pool of employees.

Since the start of the decade, the number of female staff employed by Leyland Trucks has grown by 50%, and is reaping the benefits associated, including enhanced collaboration and fresh thinking.

James Jepson, HR & Training manager at Leyland Trucks, concluded: "Young women should know a career in engineering is just as exciting, desirable and available as any other, and that's why these visits from schools in the local area are so important.

"To us, it's imperative that we are at the centre of breaking down these barriers, creating healthy workforces that are more diverse and reflective of our general society.
"We have already taken considerable steps to communicate the fact that Leyland Trucks is an inclusive, equal employer, and we hope to set an example to the wider industry about how events like this can help young women visualise a career in engineering, because without them in it, it wouldn't be as progressive and innovative as it is."