We use cookies for a variety of purposes, such as website functionality and helping target our marketing activities. Some cookies are essential, others help us improve your experience by providing insights into how the site is used. For more information, please visit our Cookie Notice.
More about Leyland Trucks
Leyland's highly efficient 710,000-square-foot manufacturing facility features a technologically advanced production system which incorporates electronic work instructions (EWI) to deliver engineering designs, build instructions and quality records to employees by interactive touch screens. Leyland builds the full DAF product range (LF, CF and XF models) for right and left-hand drive markets. The site is also the UK home of the successful PACCAR Parts business, who specialise in aftersales support and spares distribution across the UK and Europe.
Leyland has expanded its global medium-duty presence and in addition to assembly at Leyland, sells the LF and CF in kit form to many parts of the globe. Additionally, Leyland offers in-house design and manufacture of high quality truck bodies. Employees are at the heart of Leyland's success and a 'one-team' ethos exists across all parts of the business.

Employees at all levels of the organisation are actively encouraged to achieve their full potential through active career development. Leyland also has a strong social conscience and works with local education and charitable organisations to engage with the local community.
Leyland Trucks is one of PACCAR's global group of businesses and is one of Britain's leading manufacturing companies. It is PACCAR's established centre for light and medium duty truck design, development and manufacture. Learn more >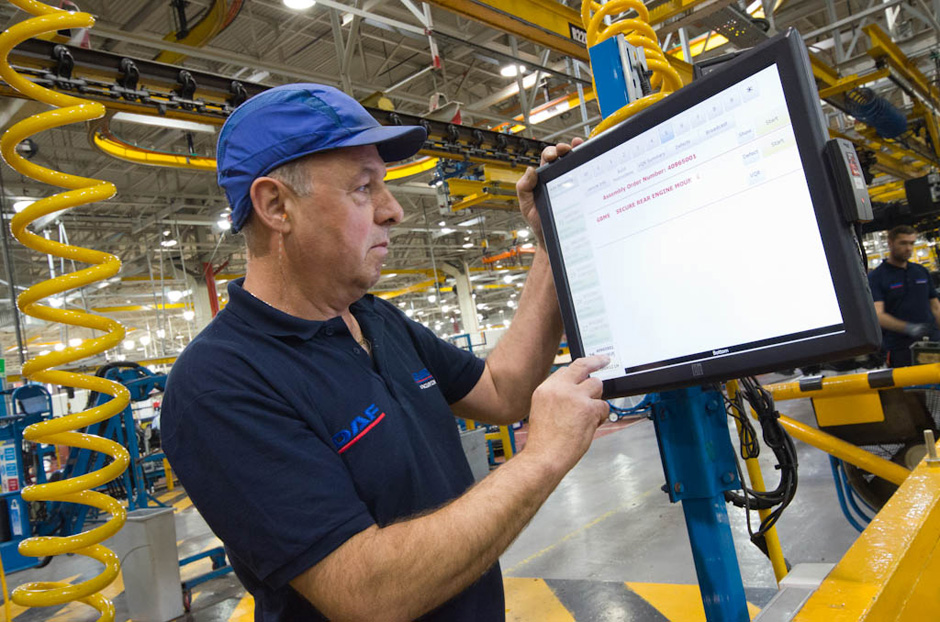 Our culture & values

The way the team works together at Leyland has evolved over time and been shaped by different influences. One of these is 'Team Enterprise', a philosophy of engaging the full workforce to achieve business objectives. More recently, the PACCAR Production System (PPS) has been used to drive the business forward. Through PPS, a common framework (Safety, Quality, Delivery, Cost, Morale, Environment) is used to align the business and personal objectives.

The Leyland Values, which underpin our way of working, are:
- Customer Focus – we meet and exceed the needs of our internal and external customers
- Empowerment – we take decisions and resolve problems in our own work areas
- Innovation – we implement improvements and are receptive to new ideas & working practice
- Personal Development – we develop our skills and knowledge and share them with others
- Personal Responsibility – we take responsibility for our actions & manage our time productively
- Team Working – We work effectively in teams towards common goals and show respect for all

In the day to day working environment, these values are seen through strong communications, a 'one team' approach, a learning culture, 'safety first', individual flexibility, empowerment, continuous improvement and community involvement.

Corporate Social Responsibility

Leyland Trucks is a major employer in the North West of England and actively seeks to offer support in various forms to community groups, charitable good causes, the local education sector and other businesses.

Community
Leyland Trucks employees currently sit on local committees to offer support and guidance on subjects that have an impact on the wider community such as the South Ribble Partnership and the Leyland Festival Committee. We also have employees actively involved with the British Commercial Vehicle Museum to offer management support and to ensure that the museum is able to accurately portray Leyland's heritage.

Education Sector
In 2011, Vince Cable, Business Secretary announced that leading manufacturers and government were working together to promote Manufacturing Excellence in the UK through the 'See Inside Manufacturing' initiative. The focus is to challenge perception of the industry and to dispel myths that Britain no longer manufactures. Leyland Trucks embraced the initiative and welcomed 15 local schools and colleges to the factory that year that included 267 pupils. Since then Leyland has continued to develop a programme that now sees an average of 44 visits to the factory per year by 800 pupils. Our programme has grown to the point where we offer more than a factory tour; we actually tailor visits according to the curriculum. We now offer specific elements on subject such as Financial Control, Supply Chain Logistics, Design Engineering, Electronics and Maintenance Schedules.
In addition to educational visits, Leyland supports local schools in a number aspects from sponsorship of awards and work placements to careers fairs.

Charitable Good Causes
Helping Hand is a fully registered in-house charity run by a dedicated team of committee members from Leyland Trucks and PACCAR Parts. Set up in 1994, Helping Hand is proud to have surpassed its 25 year milestone, and in that time it has generated and delivered more than £1m to local good causes. Every year, the charity and employees within Leyland Trucks come up with new and exciting ways to raise funds that, in turn, get distributed to many worthy causes. Whilst Helping Hand does support some national charities, our mission statement is "To provide a process that enables Leyland Trucks and its employees, customers and suppliers to help the disadvantaged in the wider community – particularly where worthy causes are local to the plant or are connected to our employees and their families." As such a large amount of our donations go to charities in the North West region as we endeavour to support the local area.

Other Businesses
Leyland Trucks offers local businesses the opportunity to visit our facility with a view to benchmarking our culture and processes that has seen us transform over the years to achieve Shingo status. An average of 12 such visits take place each year where the management team of local companies can spend time touring our factory and meeting with the Leyland management team to see what makes it a world class organisation. Leyland also works closely with the Manufacturing Institute to encourage other national and international businesses to visit on benchmarking tours.


Health & Safety

Health and Safety of employees and visitors is a key priority. The company has a robust health and safety management system and is proud of its excellent safety record. The team includes an on-site occupational health centre staffed by medically qualified nursing staff and company doctor.

As well as dealing with immediate medical and injury needs the health centre offers further services and benefits to employees, including free on site physiotherapy, lifestyle health checks, stop smoking support, influenza inoculations and confidential counselling services.