Leyland Trucks respects your privacy. We use cookies for a variety of purposes, such as website functionality, improving your experience of our website, building integration with social media and helping target marketing activities within and beyond our website. By continuing your visit on our website, you are consenting to our use of cookies. However, if you want to customize your cookie preferences, click on 'Change settings' below. You can withdraw your consent at any time. For more information, please visit our Cookie Notice.
More about Leyland Trucks
Leyland's highly efficient 710,000-square-foot manufacturing facility features a technologically advanced production system which incorporates electronic work instructions (EWI) to deliver engineering designs, build instructions and quality records to employees by interactive touch screens. Leyland builds the full DAF product range (LF, CF and XF models) for right and left-hand drive markets. The site is also the UK home of the successful PACCAR Parts business, who specialise in aftersales support and spares distribution across the UK and Europe.
Leyland has expanded its global medium-duty presence and in addition to assembly at Leyland, sells the LF and CF in kit form to many parts of the globe. Additionally, Leyland offers in-house design and manufacture of high quality truck bodies. Employees are at the heart of Leyland's success and a 'one-team' ethos exists across all parts of the business.

Employees at all levels of the organisation are actively encouraged to achieve their full potential through active career development. Leyland also has a strong social conscience and works with local education and charitable organisations to engage with the local community.
Leyland Trucks is one of PACCAR's global group of businesses and is one of Britain's leading manufacturing companies. It is PACCAR's established centre for light and medium duty truck design, development and manufacture. Learn more >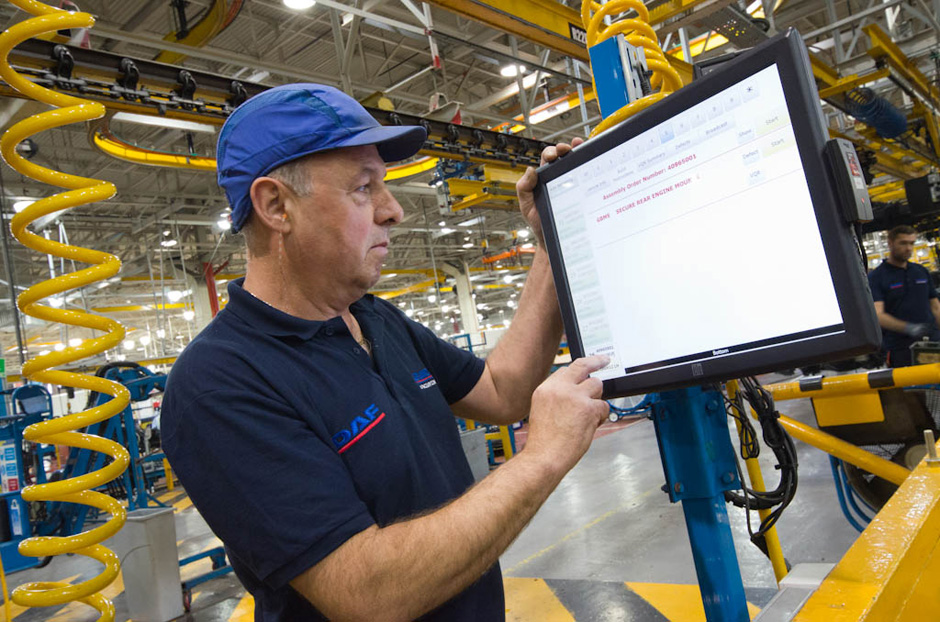 Our culture & values

The way the team works together at Leyland has evolved over time and been shaped by different influences. One of these is 'Team Enterprise', a philosophy of engaging the full workforce to achieve business objectives. More recently, the PACCAR Production System (PPS) has been used to drive the business forward. Through PPS, a common framework (Safety, Quality, Delivery, Cost, Morale, Environment) is used to align the business and personal objectives.

The Leyland Values, which underpin our way of working, are:
- Customer Focus – we meet and exceed the needs of our internal and external customers
- Empowerment – we take decisions and resolve problems in our own work areas
- Innovation – we implement improvements and are receptive to new ideas & working practice
- Personal Development – we develop our skills and knowledge and share them with others
- Personal Responsibility – we take responsibility for our actions & manage our time productively
- Team Working – We work effectively in teams towards common goals and show respect for all

In the day to day working environment, these values are seen through strong communications, a 'one team' approach, a learning culture, 'safety first', individual flexibility, empowerment, continuous improvement and community involvement.

Health & Safety

Health and Safety of employees and visitors is a key priority. The company has a robust health and safety management system and is proud of its excellent safety record. The team includes an on-site occupational health centre staffed by medically qualified nursing staff and company doctor.

As well as dealing with immediate medical and injury needs the health centre offers further services and benefits to employees, including free on site physiotherapy, lifestyle health checks, stop smoking support, influenza inoculations and confidential counselling services.

Technology

As a PACCAR company, Leyland Trucks is a leader in applying state-of-the-art technology to the design of the products we engineer and to the processes we employ to produce that product. World class systems and equipment throughout the business, coupled with our team enterprise culture ensures that we meet the most demanding standards of quality and service that our customers have grown to expect of us and that we expect of ourselves.




Business Integration

PACCAR's European Information Technology Division (ITD) supports Leyland Trucks and its sister company DAF with state-of-the-art IT systems throughout the entire life cycle of product development, production and logistics. In office environments, Leyland Trucks employees can rely on modern PC and network systems that provide the highest levels of efficiency and quality. Product development work is supported by modern CAD/CAM systems and 3D programs, allowing for great efficiency and world class product development. In the factory, our employees can access detailed work instructions and information via our interactive Electronic Work Instruction (EWI) system, direct via screens in their working environment.

Engineering

The Design Centre in leyland employs 100 engineers who work with the latest computer aided technologies. The centre has comprehensive research and testing facilities, including a state-of-the-art anechoic chamber for a wide range of noise measurements. The DAF Technical Center in Eindhoven also comprises sophisticated engine testing facilities, featuring 34 highly advanced engine test chambers. The engine test center plays a crucial role in the future development of the most efficient and environmentally friendly engines and enables DAF to build on its leading position in engine development.

Manufacturing
Leyland Truck's world class manufacturing facility is operated in conjunction with the principles of the PACCAR Production System (PPS) and is supported by PACCAR investments in the most modern manufacturing equipment and the latest technologies. Since its acquisition of Leyland Trucks, PACCAR has invested significantly in the Leyland plant to ensure it stays at the forefront of truck production and more recently to prepare for production of the all-new Euro 6 DAF model range that we produce. As with all PACCAR plants, Leyland Trucks employs a continuous improvement approach to manufacturing supported by PPS and Six Sigma, to ensure that we always get the best out of our processes and equipment and ensures our capability to deliver world class products and services to our customers.