Leyland Trucks respects your privacy. We use cookies for a variety of purposes, such as website functionality, improving your experience of our website, building integration with social media and helping target marketing activities within and beyond our website. By continuing your visit on our website, you are consenting to our use of cookies. However, if you want to customize your cookie preferences, click on 'Change settings' below. You can withdraw your consent at any time. For more information, please visit our Cookie Notice.
MP visit a success, as Leyland Trucks leads the charge on electric fleets
Leyland Trucks' new battery-electric truck was given the seal of approval during a recent visit from Trudy Harrison MP, Parliamentary Under Secretary for the Department for Transport (DfT).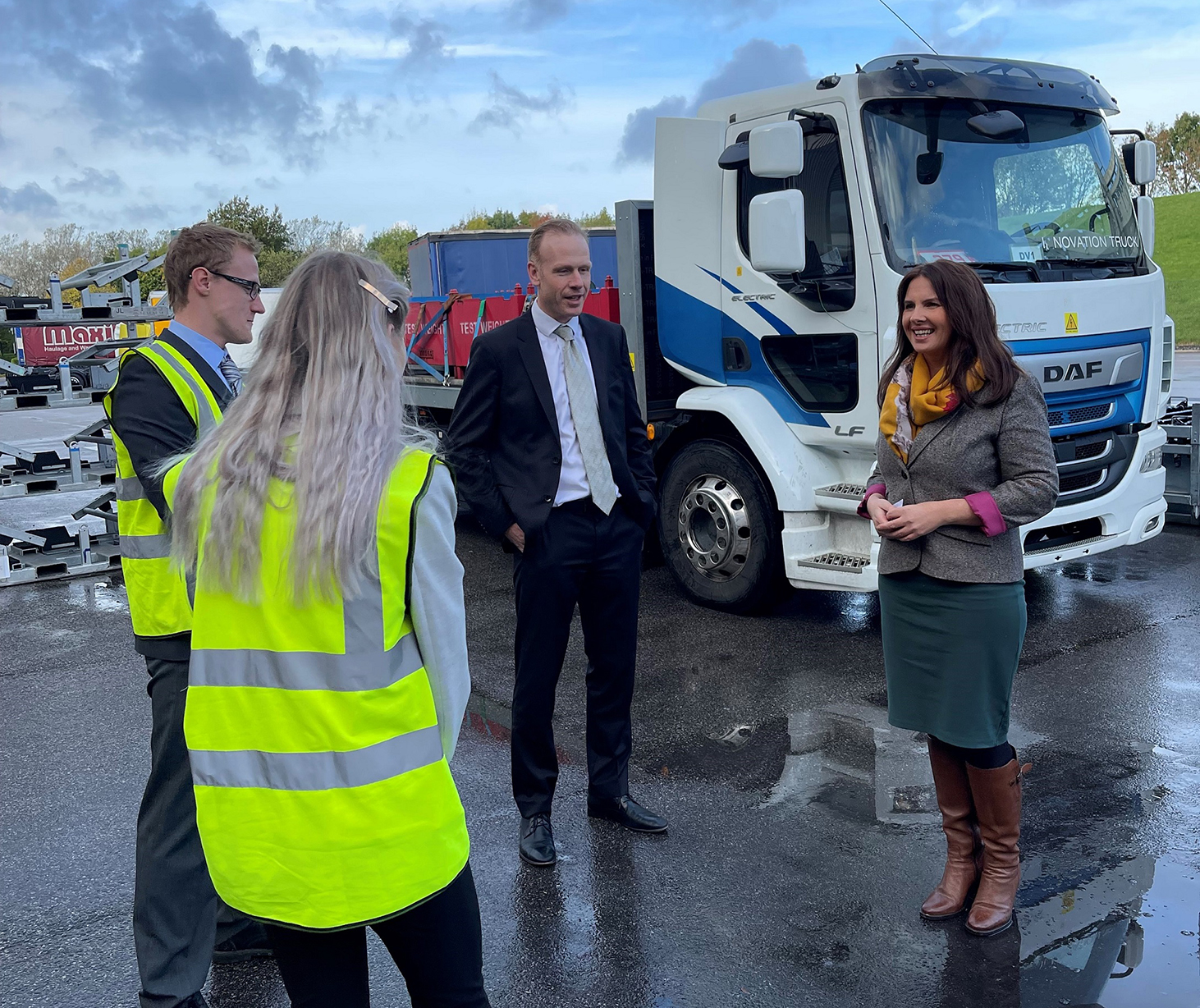 Having been selected to support the DfT's efforts to increase the use of battery-electric vehicles in commercial transport fleets across the UK, Leyland Trucks welcomed Mrs Harrison to test drive its new DAF LF Electric – a 19-tonne fully electric distribution truck – during a tour of the production facility, and hear more about the company's plans regarding the zero emission truck rollout.
During her visit to Leyland, Mrs Harrison was also introduced to current and ex-local apprentices, senior members of staff and heard more about Leyland Trucks' 125th birthday celebrations, which have been taking place across the year.
At a time when carbon emissions and green agendas dominate headlines and boardroom discussions – including during COP26's Transportation Day on 10th November 2021 – production of the new LF Electric will play a leading role in meeting the goals of the Paris Agreement and helping drive uptake of zero emission trucks globally.
Signalling its commitment to the Paris climate goals, Leyland Trucks is also working to ensure there is sufficient talent available for the future, having enrolled several of its technicians in a training programme to broaden their skillsets in the production and maintenance of vehicles with alternative power sources.
Brennan Gourdie, managing director at Leyland Trucks, said: "It's been a very busy few months since we launched production of our LF Electric as we're determined to lead the charge when it comes to the rollout of battery-electric vehicles in the commercial sector.
"We were very pleased to welcome Mrs Harrison to site, to demonstrate the ways we are preparing for a future of electric, and how we as a supplier to our clients help them meet their own green agendas, too. Mrs Harrison knew her truck history, was keen to learn about our manufacturing processes, and shared our excitement about upskilling young engineers who'll be able to learn brand new skills to help achieve zero net carbon targets."
Carl Hergart, Leyland Trucks' chief engineer, added: "Applying a one-size-fits-all solution will be detrimental; each commercial organisation looking to introduce electric vehicles to its fleet must assess its individual needs and work with suppliers that can adapt around them. What's key to us now is ensuring we partner with government and other third-party organisations to ensure the rollout of battery-powered vehicles is efficient, using the learnings from the production of our own electric vehicles here on-site to inform other business' specific strategies."
Transport minister, Trudy Harrison, said: "Following the recent COP26 summit, I was pleased to visit Leyland Trucks to discuss how Government and UK industry can work together to decarbonise the road freight sector.
"I had the pleasure of test driving their impressive new LF electric truck and seeing first hand this forward thinking business lead the way as we commit to making all new HGVs zero emission by 2040."