Leyland Trucks respects your privacy. We use cookies for a variety of purposes, such as website functionality, improving your experience of our website, building integration with social media and helping target marketing activities within and beyond our website. By continuing your visit on our website, you are consenting to our use of cookies. However, if you want to customize your cookie preferences, click on 'Change settings' below. You can withdraw your consent at any time. For more information, please visit our Cookie Notice.
PACCAR Parts celebrates 50 years of Driving Customer Success
PACCAR Parts marks its 50th anniversary this year as a world-class leader in the distribution, sales and marketing of quality parts for medium- and heavy-duty trucks, trailers and engines. The comprehensive product range is expanding continuously, now comprising no less than 180,000 products and also including a full series of state-of-the-art electric vehicle chargers to support transport operators making the energy transition.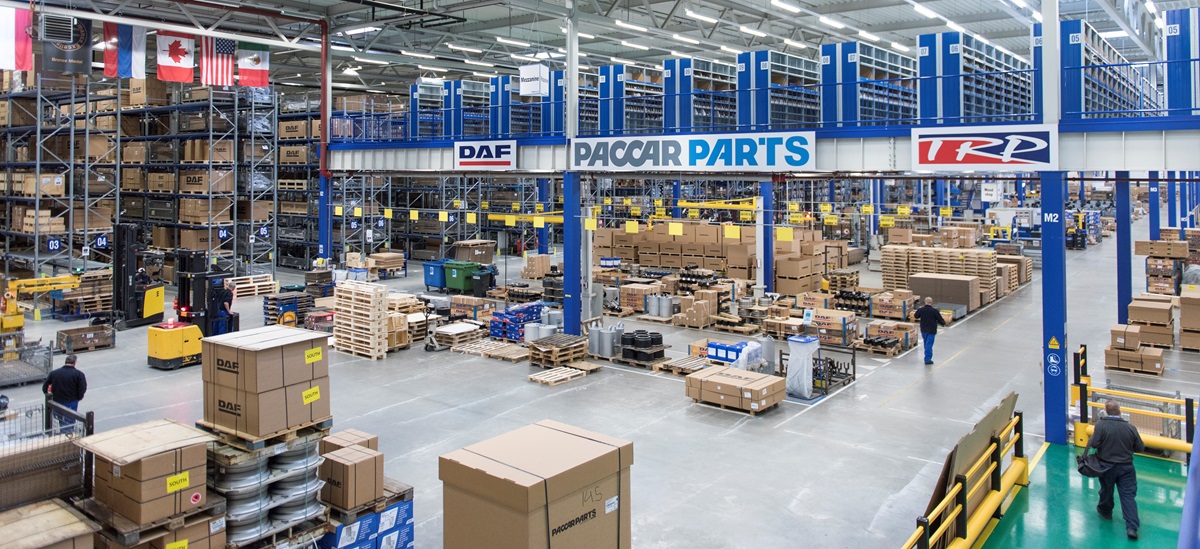 "PACCAR Parts is thrilled to celebrate this 50-year milestone," said Laura Bloch, PACCAR Parts general manager and PACCAR vice president. "The success of our division is due to the outstanding contributions of our employees and dealers who deliver exceptional support for our customers every day."
Benchmark in the parts industry
PACCAR Parts' first Parts Distribution Center (PDC) opened in 1973 in Renton, Washington, and paved the way for additional facilities across the United States, Europe and then the world. Today, PACCAR Parts operates 18 PDCs on four continents, providing 315,000 m2 of distribution capacity. The newest PDC in Louisville, Kentucky, started shipping in August 2022, enhancing parts availability for dealers and customers in the central, mid-Atlantic and south-eastern regions of the U.S. In Europe, PACCAR Parts operates 4 Parts Distribution Centers (Eindhoven, Leyland, Budapest, Madrid), supplying all DAF dealers on this continent and offering a delivery reliability of no less than 99.99%, which represents the benchmark in the truck parts industry.
As PACCAR Parts PDCs evolved to improve the customer service, the dealership networks have expanded from approximately 180 locations in 1973 to more than 2,300 locations world-wide today, of which almost 1,100 are in Europe. This has improved access to products, reduced lead time and increased opportunities for service.
'One stop shop'
Within the scope of the 'One Stop Shop'-strategy in which transport operators can get everything necessary for their fleet from one location, PACCAR Parts introduced its programme for universal truck and trailer parts under the name TRP in 1995. With more than 60,000 items, this parts offering for all makes of trucks and trailers and workshop items is the most extensive in the truck industry. The global TRP retail network includes 271 stores in 42 countries around the world of which 99 are in Europe.
Global e-commerce program
In conjunction with strong suppliers and business partners, PACCAR Parts' customer-centric employees have introduced innovative service-driven programs to increase vehicle uptime and satisfaction. PACCAR Parts Fleet Services supports over 1,100 commercial fleets operating more than 260,000 vehicles and 140,000 trailers Europe. PACCAR Parts' global e-commerce program, allows customers 24/7 online access to the parts they need.
"We are proud that our tradition of being a world-class provider and a trusted partner is 50 years strong," said Bloch. "We're already looking ahead to expanding our use of new technology and delivering exemplary service support for our customers in the 50 years to come."
Dick Leek, General Manager PACCAR Parts Europe added: "We are constantly expanding our products and service offering through the DAF dealers. As an example, we are more than ready to support our customers into the energy transition. PACCAR Parts not only offers a full range of mobile and fixed PACCAR chargers for all types of electric vehicles, but also provides all kinds of spare parts for electric commercial vehicles."
As global distribution expansion continues, PACCAR Parts will continue to drive customer service, technical support and productivity to new levels by delivering excellent supply chain performance and increased product availability.