Leyland Trucks respects your privacy. We use cookies for a variety of purposes, such as website functionality, improving your experience of our website, building integration with social media and helping target marketing activities within and beyond our website. By continuing your visit on our website, you are consenting to our use of cookies. However, if you want to customize your cookie preferences, click on 'Change settings' below. You can withdraw your consent at any time. For more information, please visit our Cookie Notice.
Linking Leyland sporting events raise over £12,000 for local charities
Several hundreds of local people recently put their strength and fitness to the test during a summer of activities, raising money and awareness for local charities.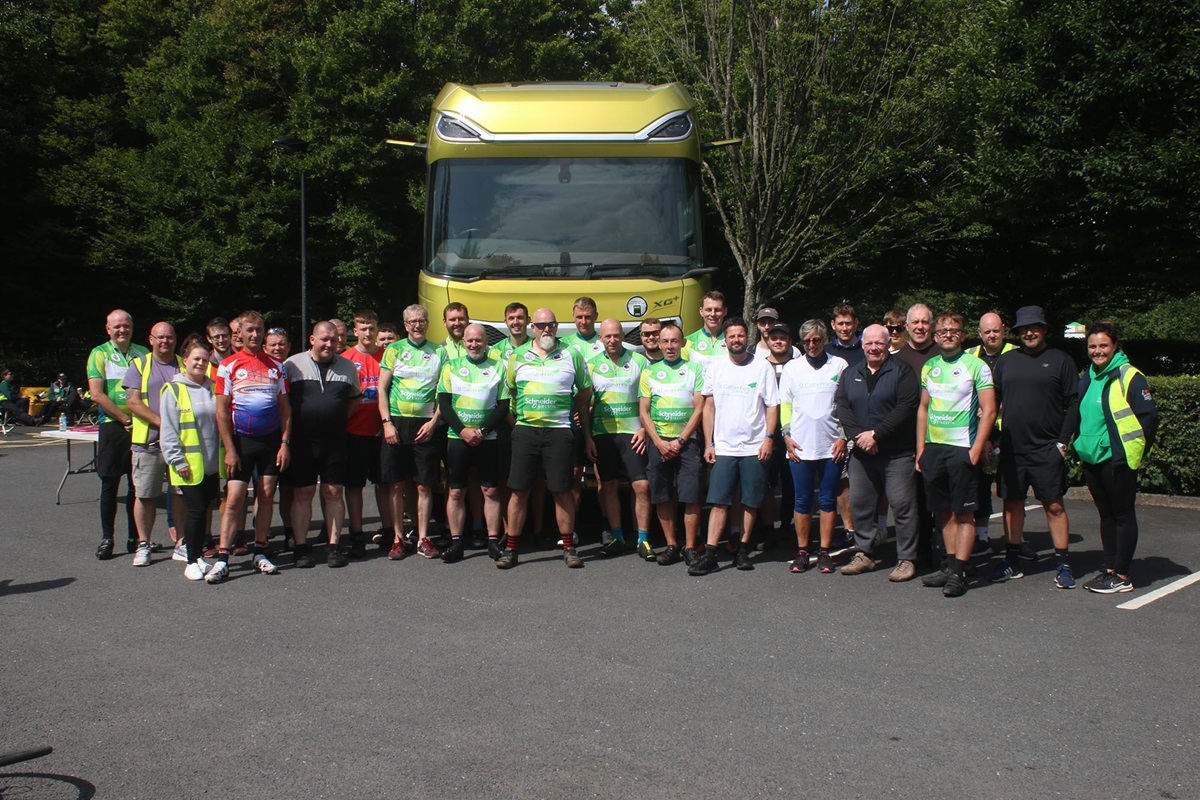 Several hundreds of local people recently put their strength and fitness to the test during a summer of activities, raising money and awareness for local charities.

The #LinkingLeyland charity initiative, organised by Leyland Trucks' Helping Hand Charity, helped organise a variety of cycle rides, walks, runs, and an amazing feat of strength challenge, involving pulling a 7 tonne DAF XD over a distance of 30 metres in the fastest time!
Schneider Electric, Lancashire DAF, Atlas Copco, Leyland Rotary and GoodYear each pledged vital funds ahead of this year's series of events, which saw participants using the good weather and fantastic scenery to raise funds for St Catherine's Hospice, Tender Nursing Care and the Natalie Kate Moss Trust.
Stuart Derbyshire, Leyland Trucks prototype manager and #LinkingLeyland event lead, said: "It takes a lot of organising to host these events and we would be unable to deliver them without the fantastic generosity of our sponsors, for which I am eternally grateful. My sincere and heartfelt thanks go out to each organisation whose donations helped create this schedule of community and family events, resulting in donations which will support amazing charities doing incredible work in often difficult and challenging circumstances.
"#LinkingLeyland is borne out of the determination to give back to those on our doorstep, and every year I'm overwhelmed by the support we receive. Those hundreds of people who give up their time to pull, cycle, walk, and run ultimately turn distances into money.
"Every penny raised goes towards helping to deliver life-changing support when those in our community need it most. This year's nominated charities are a lifeline for our friends, families, neighbours and colleagues in times of need, and it's awe-inspiring to see give up their time to support our fundraising mission.
"Charity fundraising encapsulates everything Helping Hand does best – connecting people, businesses, and communities to benefit those in need. It was a real family affair that showcased the true impact we can have by joining together, with each event packed with community spirit.
With only one event left, the Yorkshire 3 Peak Challenge on the 19th of August, the monies raised this year looks to be one of the best on record, with well over £12,000 received in donations already."
If you were unable to participate in the previous challenges, but still wish to show your support, a Linking Leyland Just Giving Page has been set up and anyone wishing to donate can still do so here: https://www.justgiving.com/team/rideforstcaths
Emma Jacovelli, head of community engagement at St Catherine's Hospice, said: "The creativity, commitment and hard work that goes into the summer wellbeing events is phenomenal. Not only have the events raised such a wonderful total for the charities involved, but it's also fantastic to hear how much people across the community enjoy taking on a collective challenge, in their own imaginative ways. "We're so grateful to Helping Hand for choosing us as one of the charities to benefit from its events. The proceeds fund our care at the hospice and in people's own homes – helping local people and their families enjoy precious time together in comfort, with dignity, independence, and choice."
If you are still itching to participate, or want the bragging rights to say you completed every challenge in this years' #LinkingLeyland events, dig out your hiking boots and get ready to take on the 24 mile challenge of summiting thepeaks of Pen-y-Ghent (694 metres), Whernside (736 metres) and Ingleborough (723 metres), all in the beautiful setting of the Yorkshire Dales National Park. This final event is being organised by Stuart Derbyshire and will be taking place on the 19th-20th August, and he can be contacted by email on stuart.derbyshire@paccar.com if you wish to participate.