Leyland Trucks respects your privacy. We use cookies for a variety of purposes, such as website functionality, improving your experience of our website, building integration with social media and helping target marketing activities within and beyond our website. By continuing your visit on our website, you are consenting to our use of cookies. However, if you want to customize your cookie preferences, click on 'Change settings' below. You can withdraw your consent at any time. For more information, please visit our Cookie Notice.
14 fully electric DAFs for garbage collection
Cure Waste Management takes delivery of first 7 vehicles
Cure Waste Management has taken delivery of the first seven of a total of 14 fully electric DAF CF Electric refuse collection trucks. The quiet, zero-emission 6x2 vehicles, equipped with fully electric VDL side loaders, will be used for the collection of household refuse in the Dutch Eindhoven, Valkenswaard and Geldrop-Mierlo areas.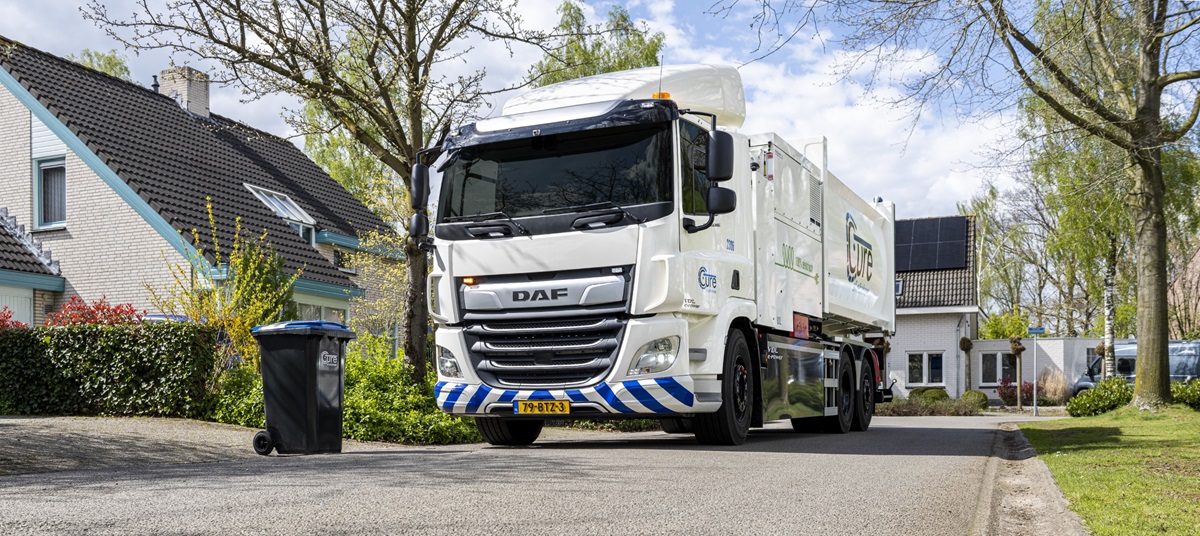 Cure Waste Management is a joint venture involving the local authorities in Eindhoven, Geldrop-Mierlo and Valkenswaard. The company collects refuse from almost 150,000 households, including general waste, paper, plastic, glass and organic waste. Cure Waste Management also operates four recycling centres in the Eindhoven region.
An additional seven electric DAFs on their way
The recently delivered vehicles are equipped with an electric VDL side loader, which allows waste containers to be emptied quietly and fully automatically into the body of the CF Electric. Cure Waste Management will soon be taking delivery of another 7 DAF CF Electric trucks, six of which will be equipped with a fully electric rear loader. The seventh truck will be fitted with a cleaning system for cleaning both surface and underground waste containers.
Sustainability as an ambition
"We try to work in as sustainable a manner as possible and this series of fully electric CF Electric trucks matches perfectly with that ambition," says Frans van Strijp, managing director of Cure Waste Management. "The trucks ensure quiet and zero-emission collection of garbage, which is great news for the residents of Eindhoven, Valkenswaard and Geldrop-Mierlo. And our brand new charging station allows us to rapidly charge multiple vehicles at the same time."
About the DAF CF Electric
At the heart of the DAF CF Electric is a 210 kW (240 kW peak power) electric motor powered by a 350 kWh (315 kWh effective) battery pack. This provides the truck with a range of around 200 kilometres.
DAF: electric solutions for every application
DAF offers a comprehensive series of fully electric vehicles. The trucks have a range of between 200 and 500 kilometres and, depending on the model, are designed for use in urban, regional and national settings. Not only does DAF deliver first-class electric trucks, but it also actively supports customers with tailor-made purchasing advice through the use of advanced route simulation models that ensure a smooth transition to the use of zero-emission e-trucks.

DAF also offers its customers a full package of specific services, including PACCAR charging stations and training in the driving of electric vehicles.
Press Contacts
Are you a journalist? Contact us for more information about the company, our products and services or any other subject.
Rutger Kerstiens
Corporate Communications Department
Tel: +31 (0)40 214 4191
E-mail: rutger.kerstiens@daftrucks.com