Leyland Trucks respects your privacy. We use cookies for a variety of purposes, such as website functionality, improving your experience of our website, building integration with social media and helping target marketing activities within and beyond our website. By continuing your visit on our website, you are consenting to our use of cookies. However, if you want to customize your cookie preferences, click on 'Change settings' below. You can withdraw your consent at any time. For more information, please visit our Cookie Notice.
New DAF Electric Truck Assembly plant officially opened
Series production of XD and XF Electric to start in summer 2023
DAF's completely new assembly plant for battery electric trucks was officially opened today by Micky Adriaansens, the Dutch minister of Economic Affairs and Climate. The new facility has been commissioned at DAF's main production site in Eindhoven, the Netherlands and will be instrumental in the further development of the company's leading position in providing sustainable transport solutions.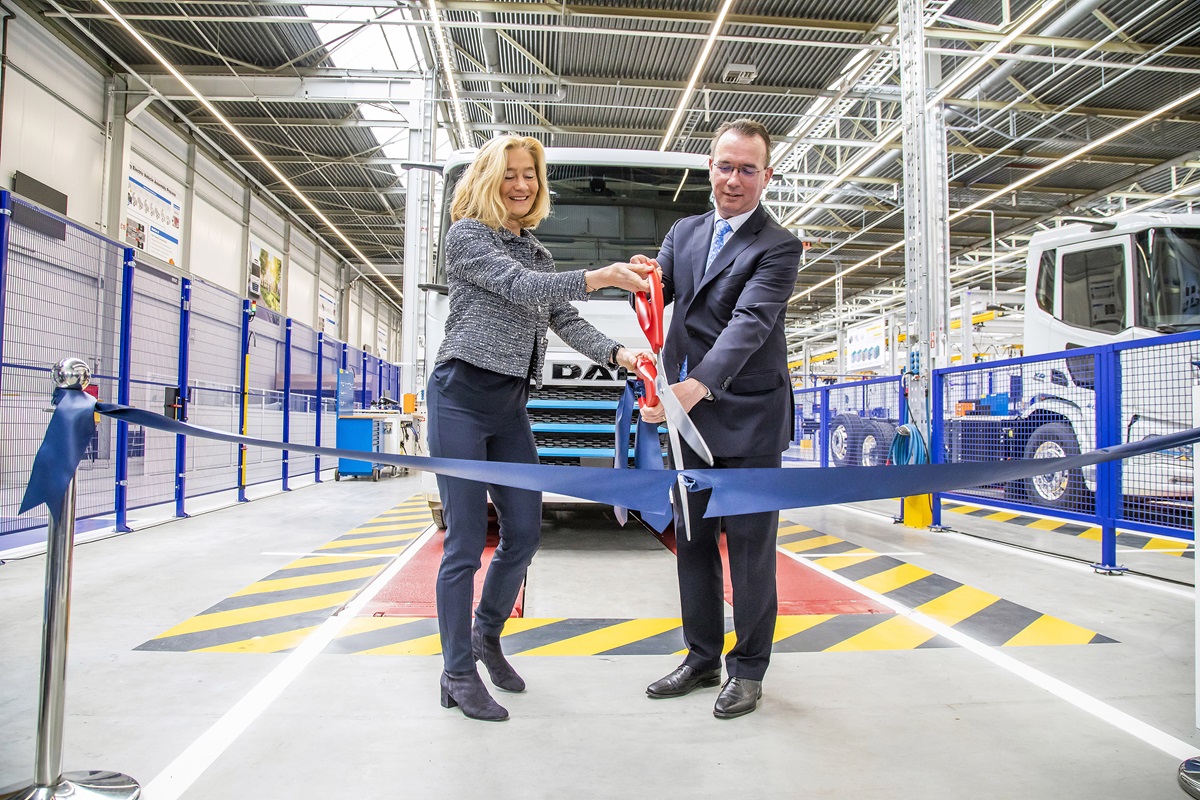 The new DAF Electric Truck Assembly plant covers an area of 5,000 m2 and includes two sub-assembly lines for the preparation of the battery packs as well as the Electric Drive Module, consisting of the front battery pack, high voltage junction box and electrified auxiliaries. These key components as well as the e-motor with integrated gearbox are installed onto the vehicle on the main assembly line which is almost 150 metres long.
Newest generation battery-electric trucks
DAF has built its DAF Electric Truck Assembly plant for the production of its latest generation of battery electric trucks. The New DAF XD and XF Electric are available in a range of configurations. These are powered by PACCAR e-Motors and equipped with battery packs of 2 up to 5 strings (210 to 525 kWh). The modular approach allows the trucks to be tailored precisely to customer requirements and needs. Full electric ranges of up to 500 kilometres are possible making 1,000 'zero emission' kilometres achievable with careful planning of routes and recharging. With fast charging of up to 350 kW, battery packs can be charged to 80% of their capacity in only 45 minutes.
Production of quality validation trucks is about to start with series production of customer vehicles planned from the summer. DAF expects production to increase to thousands of vehicles per annum in the near future, in line with the increasing demand for fully electric trucks.
'DAF leading the way'
Micky Adriaansens, Minister of Economic Affairs and Climate Policy: "DAF has been a leading player in the manufacture of trucks for many years and is currently playing a prominent and innovative role in the development of electric trucks. The transition to cleaner products and production methods is important. Not only for the environment but also to ensure that the Netherlands retains its competitive edge. This new factory for battery electric trucks is a shining example of that ambition."
"The commissioning of the new DAF Electric Truck Assembly plant represents another important milestone on the road to an even cleaner future", stated Harald Seidel, DAF Trucks' president. "To support our customers in the transition to zero emission road transport, we go further than delivering class-leading full electric vehicles. Our comprehensive package includes a broad range of charging solutions, advice on planning of routes and charging, and the provision of dedicated training for drivers to get the best out of the vehicles."
Press Contacts
Are you a journalist? Contact us for more information about the company, our products and services or any other subject.
Rutger Kerstiens
Corporate Communications Department
Tel: +31 (0)40 214 4191
E-mail: rutger.kerstiens@daftrucks.com