Leyland Trucks respects your privacy. We use cookies for a variety of purposes, such as website functionality, improving your experience of our website, building integration with social media and helping target marketing activities within and beyond our website. By continuing your visit on our website, you are consenting to our use of cookies. However, if you want to customize your cookie preferences, click on 'Change settings' below. You can withdraw your consent at any time. For more information, please visit our Cookie Notice.
Alliance of Lancashire businesses raise £7,800 at charity dinner
Hundreds of Lancashire businesspeople gathered at Crow Wood Hotel & Spa Resort for Leyland Trucks' annual Helping Hand charity dinner, which raised £7,800 for local good causes.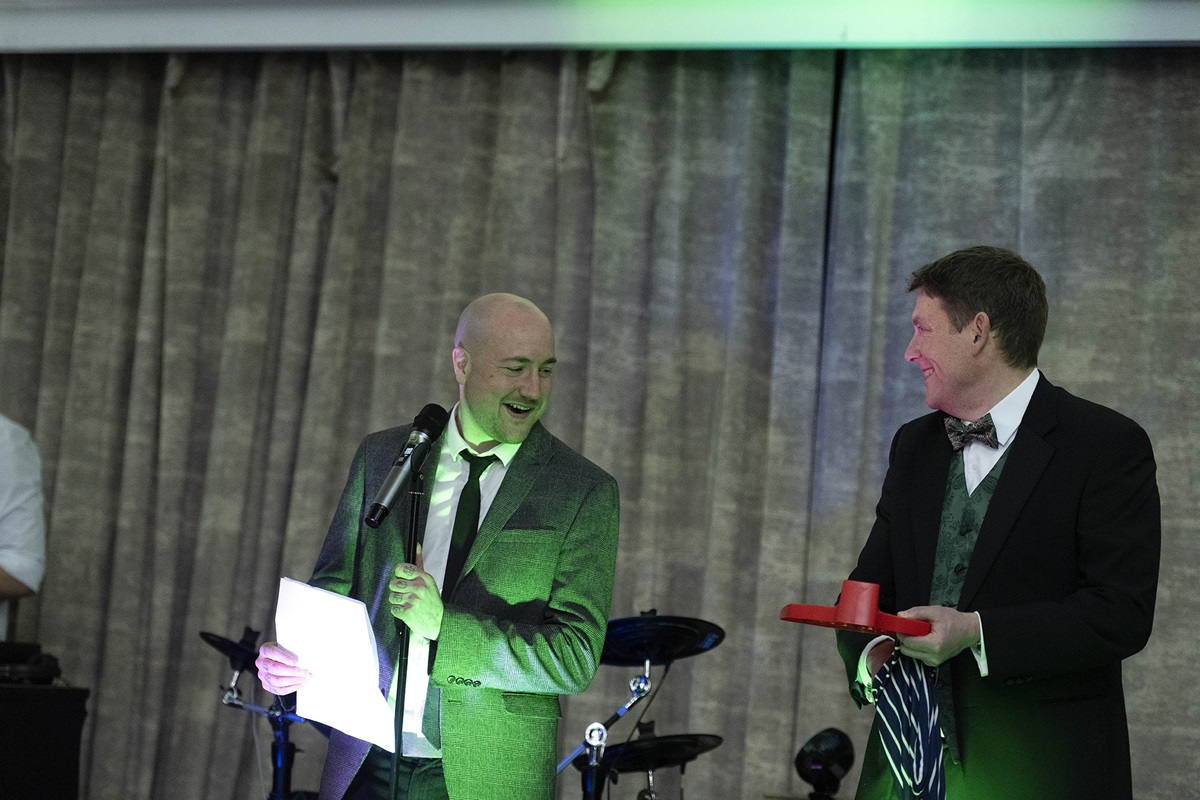 The dinner was the first of a number of events and initiatives scheduled for the year, kickstarting the organisation's 2023 fundraising push. The celebratory event introduced #LinkingLeyland's plans and revealed the charities set to benefit from the committee's efforts.
A truck pull in support of St Catherine's Hospice's Yellow Ribbon Memory Day will take place on 25th June. The event, organised by the hospice, attracts more than 1,000 supporters each year, and Helping Hand's intrepid teams will take on the challenge of pulling an eight-tonne DAF truck, racing to cover the 125ft course in the fastest time.
An extravaganza of walking, running and cycling – competitive and not – is planned for 1st and 9th July.
On 1st July, the Ride and Ramble Day will include a 1k and 10k walk, as well as a bike ride along Preston's Guild Wheel trail. An 80-mile Touch the White Rose ride to Settle is also taking place for more experienced cyclists.
Sunday 9th July plays host to a 10k run around the scenic Cuerden Valley Park, and a final event on 19th August will see an intrepid group take on the Three Peaks.
#LinkingLeyland has chosen four local charities to benefit from its activities in 2023. St Catherine's Hospice provides end of life care, ensuring quality of life to the very last. The hospice must raise £4m every year, and #LinkingLeyland will be helping it to reach that figure.
Chorley's Derian House is a lifeline for more than 400 families across the North West. It provides both respite and palliative care for children, creating happy memories, bringing joy in hard times, and providing life-changing care with utmost respect.
Tender Nursing Care delivers free of charge overnight homecare and support for people in South Ribble, Chorley and Preston with life-limiting conditions, as well as respite for carers, ultimately preventing unnecessary hospital or care facility stays.
The Natalie Kate Moss Trust was set up in 2012 by the Moss family after the sudden death of Natalie following a brain haemorrhage. The charity supports ground-breaking research into the prevention and treatment of brain haemorrhages.
Phil Jones, director of operations at Leyland Trucks and chairman of Helping Hand, said: "We were delighted to see such a large contingent from Lancashire's business community at our charity dinner. We are so incredibly lucky to be surrounded by compassionate, proactive, positive people that understand the impact we can have by joining together.
"The event has filled me with confidence for the year ahead. The generosity on display was extraordinary. In a truly testing economic climate, people are still ready to put their hands in their pockets and give up their time for the greater good.
"In 2023, we're supporting charities that provide life-changing services when our friends, families, neighbours and colleagues need it most. These charities provide a lifeline for people in our community during the hardest moments of their lives. We're asking for people to dig deep and do what they can to help us."
#LinkingLeyland is an alliance of businesses and organisations that work together to raise funds through Leyland Trucks' charity committee, Helping Hand. Helping Hand has raised more than £90,000 in recent years for causes that change lives in Leyland and the surrounding area.
Press Contacts
Are you a journalist? Contact us for more information about the company, our products and services or any other subject.
Rutger Kerstiens
Corporate Communications Department
Tel: +31 (0)40 214 4191
E-mail: rutger.kerstiens@daftrucks.com