Leyland Trucks respects your privacy. We use cookies for a variety of purposes, such as website functionality, improving your experience of our website, building integration with social media and helping target marketing activities within and beyond our website. By continuing your visit on our website, you are consenting to our use of cookies. However, if you want to customize your cookie preferences, click on 'Change settings' below. You can withdraw your consent at any time. For more information, please visit our Cookie Notice.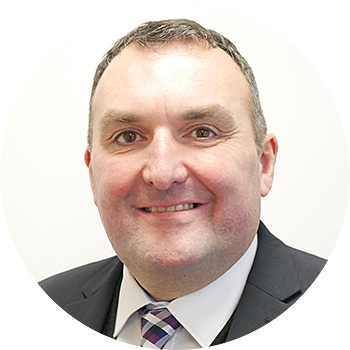 Ian Fox
What were you doing before you joined Leyland Trucks?
I have worked for Leyland in some kind of vehicle engineering and manufacturing role since leaving school at 16. I achieved nine GCE's (O Levels then) at school but I always had an interest in engineering. My teachers thought I was crazy pursuing an apprenticeship and not A levels, but after doing my research I could see that Leyland, along with other larger employees in the area, offered a structured apprenticeship that could yield opportunities through hard work and application. Oh …and at the same time getting paid, which was a bonus.
I achieved my apprenticeship working for Leyland Vehicles at that time, part of a larger nationalised truck and bus company. Then in the turbulent times of the late 1980's and into the 90's the government started to split up and sell off the nationalised industries. In the early 90's I worked for DAF and achieved an Engineering Degree until receivership in 1993, when I was one of the circa 30 people from over 250 in product development to be retained. We worked for the receiver for some months until the Leyland management buy-out, which was a perilous, but an exciting time. Then PACCAR bought Leyland Trucks and the rest is history.
Therefore, in summary, I have worked for a commercial vehicle company with 'Leyland' in its title for most of my 30 plus years of service, but in reality, I have worked for many different versions of the company.

How have you progressed since you have been with Leyland Trucks?
Leyland has given me so many opportunities both from a technical and managerial perspective. My technical knowledge of electronic systems and software has led me all over the world.
I feel that my technical training and experience building was targeted towards one defining project in the late 90's, which was the birth of the LF vehicle range at Euro 3.
This was the first time electronic systems became a necessity to ensure legal compliance and led to the proliferation that exists today. I worked as a leader during this project, ensuring that the infrastructure and skills were there to integrate this relatively new technology into our organisations.
This project and the experiences gained opened the door to an expat assignment in Seattle, essentially doing the same for the US vehicles. This was an exciting time for my family and I and a time we will never forget.
Whilst in the USA I had a lot of exposure to PACCAR senior management, which has led to many varied and exciting opportunities since, in a technical leadership capacity. Future strategic investigations in countries such as Mexico, India, China and all parts of Europe have enriched my outlook on life and business in general, with the luxury of always coming home to Leyland and the down to earth culture we have here, whose strength should not be under-estimated.
What is the best thing about working at Leyland Trucks?
The frank and down to earth people with most functions under one roof. In my experience when working at other PACCAR divisions, conference calls across different time zones is a norm, whereas this can be achieved around the coffee machine at Leyland, with all the team culture benefits of face-to-face engagement.

What is a typical day for you?
Two days are never the same for me. I could be up at 3am to catch a flight for an 11:30am meeting at DAF. I could be driving up the M6 and over to Cummins or simply coming into the office at Leyland to work through internal activities such as Personal Development Plans, technical or program meetings. This is the exciting part of my role, which is varied and can be taken down a different path from one phone call or email.

What do you hope the future holds for you at Leyland Trucks?
I hope that Leyland's culture is recognised as a pragmatic, flexible and an achievement led organisation, whose teams are committed to the goals of PACCAR. For this recognition, I hope Leyland has a key role in delivering future solutions to PACCAR's product portfolio in an innovative way.