Leyland Trucks respects your privacy. We use cookies for a variety of purposes, such as website functionality, improving your experience of our website, building integration with social media and helping target marketing activities within and beyond our website. By continuing your visit on our website, you are consenting to our use of cookies. However, if you want to customize your cookie preferences, click on 'Change settings' below. You can withdraw your consent at any time. For more information, please visit our Cookie Notice.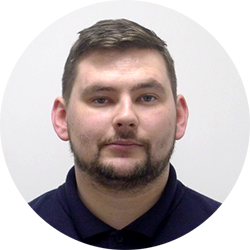 Lee Caton
Production Support Engineer
What were you doing before you joined Leyland Trucks?
Before I joined Leyland Trucks, I was still in Secondary School. I joined Leyland Trucks as a 16 year old apprentice to complete my NVQ Level 3 in Welding and Fabricating.
How have you progressed since you've been with Leyland Trucks?

Since joining I've held various roles around the business. After completion of my apprenticeship in 2011, I worked on the assembly line where I was able to progress from an Assembly Operator to Deputy Key-Operator. In 2017, I was fortunate enough to be accepted onto a secondment scheme internally known as the Engineering Careers Pathway. A scheme aimed at bringing aspiring engineers from within the business and training them over a 2 year period, through 6 month placements in major stakeholder departments within the Design Engineering process. This 2-year training scheme has since led to me applying for, and being successful in a role within the Product Development Group as a Production Support Engineer.
Throughout my 12 year career here at Leyland, I've been encouraged to back up my working experiences with academic studies. This has been achieved through assisted studies schemes and day release programs. I have recently achieved my HNC/ HND and progressed to BEng – Mechanical and Manufacturing Engineering.

What's the best thing about working at Leyland Trucks?
The commitment to development of all employees. This is achieved through yearly Personal Development Plans (PDPs) and Individual Development Plans (IDPs) which can be used to outline 1 year, 2-3 year and 5 year goals as well as any job related training and development training required.

What's a typical day for you?
Being part of the production support team means the bulk of my role is dependent on the assembly process. From solving current problems, to identifying potential issues and stopping them before they happen, no two days are the same. As with most roles within Leyland Trucks, no matter what the day brings the teams and people around are always a supportive group.

What do you hope the future holds for you at Leyland Trucks?
A long and prosperous career. With 12 years already served, potentially another 38 years on the horizon and Leyland Trucks commitment to development, as long as I have the drive to progress there will be opportunities.